THE £48.7m Haverfordwest High VC School building project has won three national awards in one week.
As well as scooping two awards in the Constructing Excellence in Wales Awards 2023, it also won Project of the Year at the Education Building Wales Awards 2023.
Opened in September 2022, the school provides an outstanding learning environment for 1,750 pupils aged 11-18, together with first-class sports and outdoor facilities that benefit not only learners, but the whole community.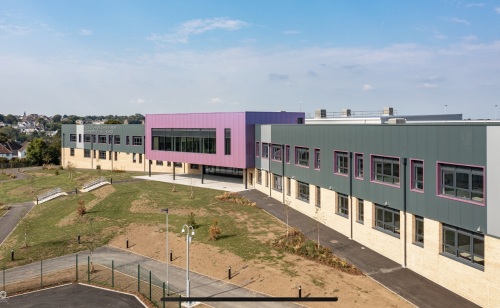 Jane Harries, Headteacher of Haverfordwest High VC School, said: "It has been an absolute privilege and pleasure working with the team from Pembrokeshire County Council, Morgan Sindall and their partners, including Atkins and many locally based contractors, on the project.
"Our amazing school is the result of four years of hard work and team work culminating in giving the pupils of Haverfordwest and our neighbouring areas the learning environment they deserve.
"The Awards are recognition of the collaboration and attention to detail that was given by all to this school building fully considering the needs of the pupils and staff."
The Constructing in Excellent Wales awards were:
Health, Safety & Wellbeing Award:
Haverfordwest High VC School: Morgan Sindall Construction, Pembrokeshire County Council, Aecom, Atkins, Dudley's Aluminium
Integration & Collaborative Working Award:
Haverfordwest High Voluntary Controlled School & Sports Facilities: Morgan Sindall Construction, Pembrokeshire County Council, Haverfordwest High VC School, Atkins, Whitehead Building Services, Pembrokeshire Leisure Services
The HHVCS project will now be shortlisted in the national Constructing Excellence awards in November.
Project Manager Paul Williams said the team were delighted. "To then go on to win the Project of the Year at the Education Building Wales Awards 2023 shows what a fantastic school has been provided for the pupils of Haverfordwest. It's a great achievement from all involved."
Robert Williams, Area Director at Morgan Sindall Construction, said: "We're honoured that our work on the Haverfordwest VC School project has been recognised with these three prestigious awards.
"Winning awards for Health, Safety & Wellbeing, and Integration & Collaborative Working really exemplifies our commitment to building a positive, safe, and collaborative working environment which facilitates the best possible outcomes for our projects. To win Project of the Year on top of that is a huge honour and a big thanks to the team who made it all possible."
Simon Kneafsey, Atkins' Architectural Project Director for HHVCS, said:
"The project was a perfect balance between the school's community needs, the local authority's educational vision, requirements of the new Welsh curriculum, budget constraints and delivery programme. Good teamwork and communication – one goal and it was delivered. Everyone is over the moon with the new school.
"The design of the school was driven by developing new and exciting, agile, digitally enriched educational settings which were to meet the needs of the emerging new Welsh Curriculum (independent learning and problem solving). It provides a mix of traditional classroom environments as well as breakout spaces, large group teaching stairs, and AV (audio/video) systems that could double up as cinemas and immersive environments."
The school was funded by Pembrokeshire County Council and Welsh Government through the Sustainable Communities for Learning Programme.
Cllr Guy Woodham, Cabinet Member for Education and the Welsh Language, said: "Given the many challenges that had to be overcome to successfully deliver this project, it is fantastic to see the hard work of everyone involved being recognised by winning these prestigious awards.
"My thanks go to all those who have, in whatever way, contributed to this achievement, which I hope is only the beginning of delivering outstanding learning environments for learners and communities across Pembrokeshire."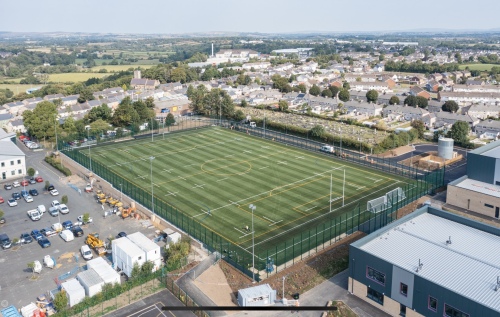 Cllr Rhys Sinnett, Cabinet Member for Residents' Services, said: "It is a key focus of the Local Authority that health, wellbeing and sport are integrated throughout our services and the partnerships formed during this project have ensured that outstanding facilities for both our educational and community needs have been created.
"Working collaboratively with the school and Morgan Sindall we developed the Pembrokeshire Sports Village which already supports the school, the public, clubs and leagues for the county. An educationally focused campus during the school day and a thriving community hub serving both Haverfordwest and the whole county during evenings and weekends, it has ensured that our sporting landscape has been enhanced as part of this project."
Pictured at the CEW awards are (left to right) Cllr Guy Woodham, Simon Kneafsey, Ree Amroota, Steven Richards-Downes, Jane Harries, Gareth Rees, Mike Thomas, Darren Thomas, Jon McCarthy and David Humphrey.